What Is Metainfo app?
Image metadata, also known as EXIF data, is simply the information stored by your camera when shooting a picture. This information typically includes the camera used, lens type, focal length, shutter speed, image resolution, file size, date, time and location. The metadata is embedded into the image file, but you cannot view it normally.
Metainfo is a metadata viewer, it helps you to extract and view such information. Additionally this app can operate with wide range of a video and audio files to view album cover, ID3 tags if any and shortly about used bitrate and codecs.
Supported formats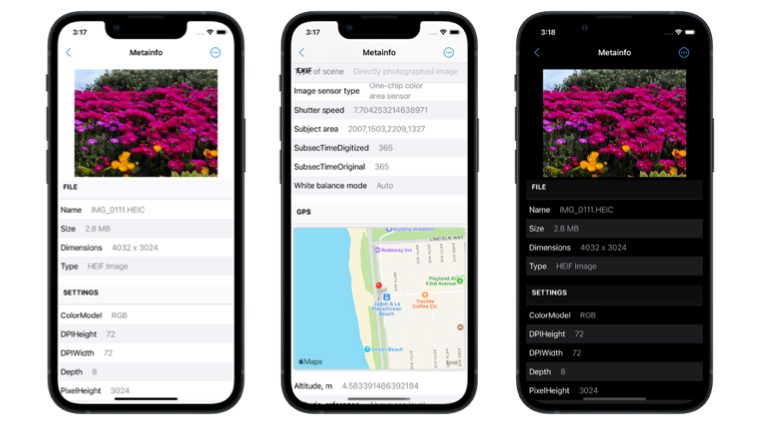 Metainfo supports a wide range of media formats, including but not limited to ARW, JP2, PSD, CR3, DNG, SR2, RW2, NEF, JPG, TIFF, GIF, PNG, BMP, HEIC, AVI, MP3, OGG, OPUS, M4A, PUBLIC3GPP, ASF, F4V, M2TS, M2V, M4V, MOV, MP4, MPG, MXF, OGV, RM, TS, VOB, WEBM, WMV, WTV, MKV, FLAC, AAC, AC3, AIFF, AU, CAF, APE, DTS, M4R, MP2, OGA, RA, TTA, VOC, WMA, WV, WAV
System integration
Metainfo can operate with files opened via Files app or you can open media files by dragging to a running application window.
Limitations
– Metainfo can't not open Galleries and Photoalbums.
– Metainfo is a viewer only, you are not able to edit or remove any metadata.
– Metainfo has not included Thumbnails or QuickLook extensions.

Have any questions?
iPhone, iPad and macOS support? Yes.
Support of split screen mode? Yes.
Apple Silicon support? Also yes.
Family sharing? Of course.
Dark and light theme? Sure.

There are no in-app subscriptions or annoying ads, pay once for all updates.
The application does not collect any personal data from its users.
Metainfo Privacy Policy

Can't find the question you're looking for? Reach out to support.