What Is an ASE File?
ASE stands for Adobe Swatch Exchange and like the name implies, is primarily used to exchange swatch palettes between different Adobe Creative Cloud products. ASE files can be opened with Adobe's Photoshop, Illustrator, InDesign, and InCopy software, as well as the discontinued Fireworks program.
Also it is supported by third party color management tools.
ASE is a binary file format and it has a dynamic word length.
By usage of Color Palette Finder it is possible to easily manage palettes on iPhone and iPad without help of Adobe's software.
Editing features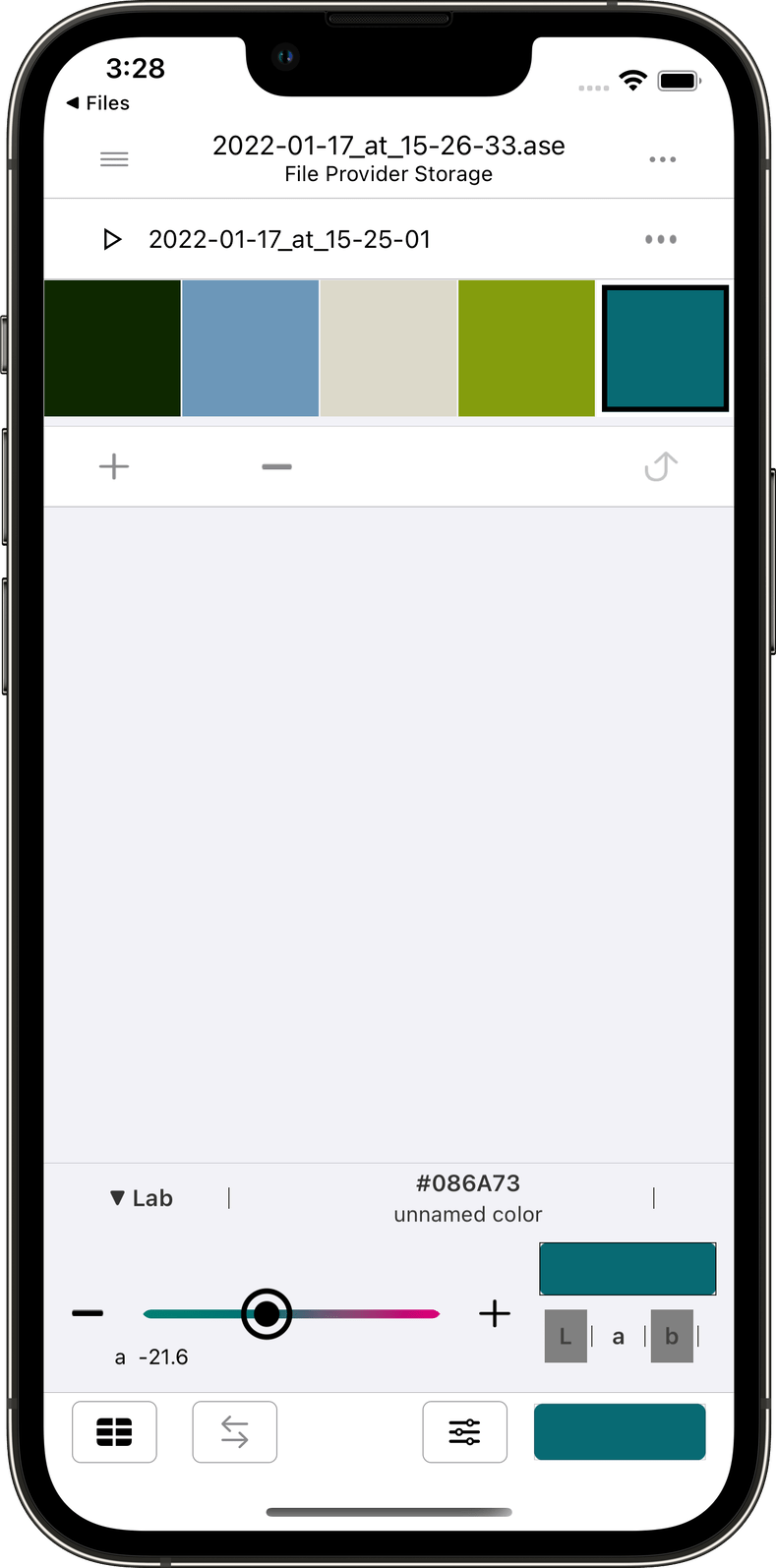 Swatches are editable, color can be selected from any models supported by ASE format (i.e. RGB, CMYK, Lab, White). Additionally it is possible to use HSV and HSL, which can not be saved but will help to select desired color.
Rename swatches and groups as you want. Supported drag and drop to reorder.
Incorporated system picker allows to copy color anywhere from the screen.
Import and export
Adobe offers four different file formats to store color swatch palettes: ACO (Adobe Color), ASE (Adobe Swatch Exchange), ACT (Adobe Color Table) and ACB (Adobe Photoshop Color Book).
Besides them are very popular such formats as GPL (GIMP Palette), JASC-PAL (Paintshop Pro Palette) and Swatches (Procreate Palette).
Color Palette Finder can freely import and export mentioned formats.
ACO is supported partially, except of the HSV for export (not able to find samples). Import is supported.
Incorporated list of named colors.
Color theme from image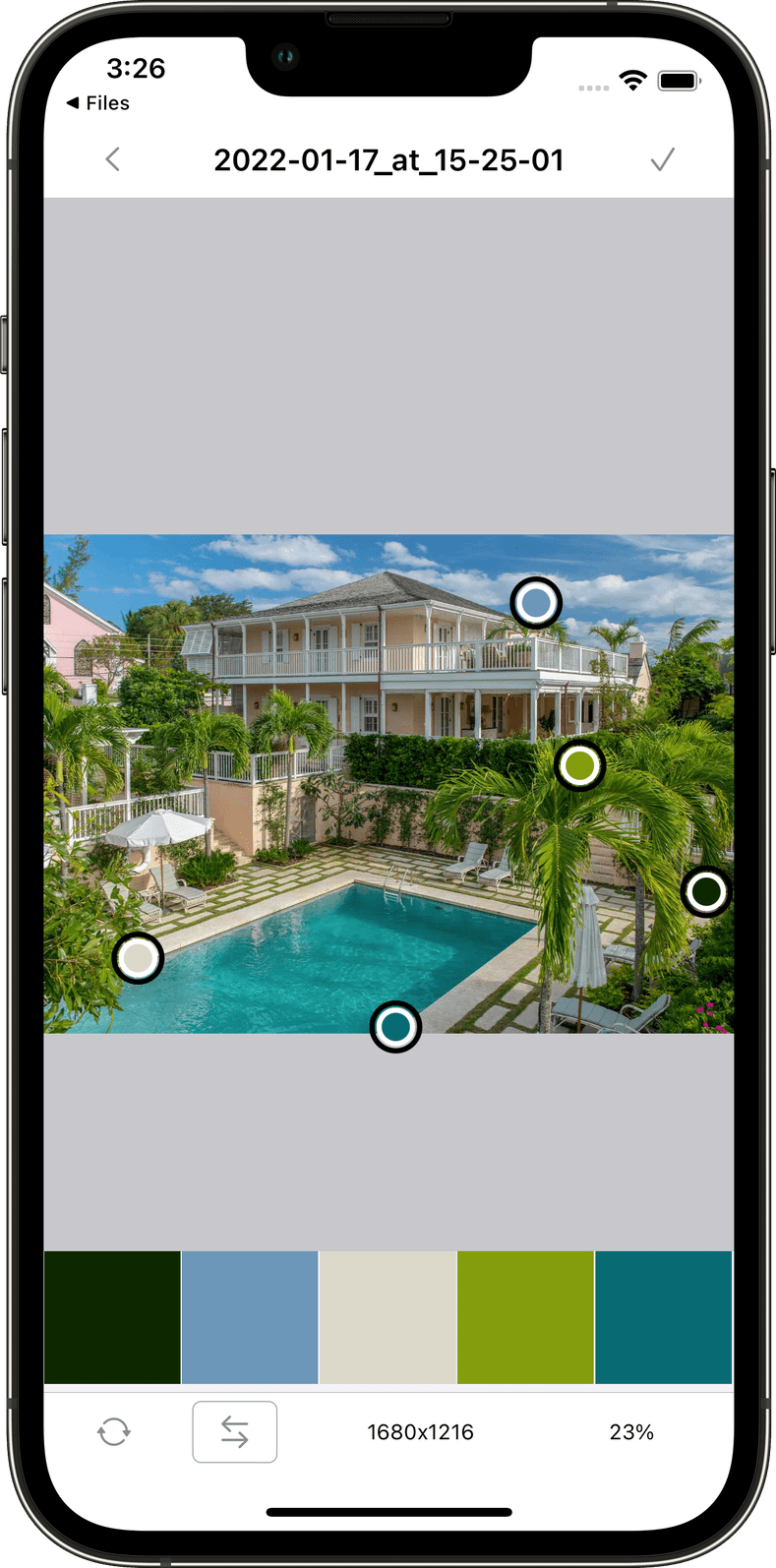 Color Palette Finder can extract color palettes from the images. They are can be opened from the Files app or Photo Gallery. Its smart algorithm tries to find colors that work together in a color palette. Also it is possible to manually select desired color, since the image pane is resizable and color dots are draggable.
Color Palette Finder supports a wide range of image formats, including but not limited to JPG, PNG, GIF, BMP, TIFF, ARW, DNG, CR3, HEIC, J2C, JP2, JPF, NEF, PSD, RW2, SR2.
System integration
Open or import palettes and images dragging the files to a running application.
Allowed copy/paste operations between your Mac and iCloud devices (Handoff).
Your palettes will be synced in your way – device's storage or external location, whatever you want.
The app has included fast Thumbnails and QuickLook extensions.

Have any questions?
Groups and ungrouped swatches? Yes.
Support of split screen mode? Yes.
Apple Silicon support? Also yes.
Family sharing? Of course.
Dark and light theme? Sure.

There are no in-app subscriptions or annoying ads, pay once for all updates.
The application does not collect any personal data from its users.
Color Palette Finder Privacy Policy

Can't find the question you're looking for? Reach out to support.